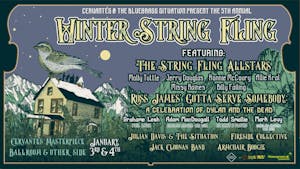 Cervantes & The Bluegrass Situation Present
5th Annual Winter String Fling (2-DAY PASS)
Cervantes' and The Other Side - DUAL VENUE
$40.00 - $45.00
Tickets At The Door
Molly Tuttle, Jerry Douglas, Ronnie McCoury, Allie Kral, Missy Raines, Billy Failing w/ Ross James' Dylan and The Dead
5TH ANNUAL WINTER STRING FLING
Friday, January 3, 2020 & Saturday, January 4, 2020
Cervantes' and The Other Side - DUAL VENUE
The Winter String Fling is a very special annual event at Cervantes' Masterpiece Ballroom and The Other Side! Over two nights, we open the doors of both venues to six bands including two very special collaboration super-jams, plus support from around the country and special guests galore!
2-DAY PASSES - 1/3 & 1/4
A limited amount of 2-Day passes are available for purchase.
All purchasers' names will be placed on the will-call list at the box office. Purchasers will show their ID at the box office and collect their 2-Day pass on Friday, January 3rd.
Single Day pass for FRIDAY 1/3 can be purchased HERE.
Single Day pass for SATURDAY 1/4 can be purchased HERE.
PERFORMING IN THE BALLROOM
The String Fling Allstars featuring:
Molly Tuttle
Jerry Douglas
Ronnie McCoury
Allie Kral
Missy Raines
Billy Failing
and Special Guest Lindsay Lou (SATURDAY ONLY)
With support from Julian Davis & The Situation (FRIDAY) and Fireside Collective (SATURDAY)
PERFORMING ON THE OTHER SIDE
Ross James' Gotta Serve Somebody: A Celebration of Dylan and The Dead featuring:
Ross James
Grahame Lesh (Phil Lesh)
Adam MacDougall (Circles Around the Sun)
Todd Smallie (JJ Grey & Mofro)
Mark Levy (Circles Around the Sun)
With support from Jack Cloonan Band (FRIDAY) and Armchair Boogie (SATURDAY)

Venue Information:
Cervantes' and The Other Side - DUAL VENUE
2637 Welton Street
Denver, CO, 80203