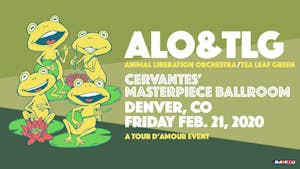 ALO & Tea Leaf Green w/ Special Guests
Cervantes' Masterpiece Ballroom
ALO & Tea Leaf Green w/ Special Guests Tickets On Sale Now!
ALO
ALO is not a band that dwells in the past. They are always moving forward. Always striving to discover new ideas. Always looking to go on new adventures. Their latest adventure, Man of the World (to be released February 9, 2010 on Brushfire Records), finds the Cali collective flexing their considerable creative powers to craft their finest album yet. Recorded almost entirely live, the 11-song collection is the sound of four players who have truly found their groove together. This is ALO at their most natural, their most organic and their most pure. Man of the World is the next level for ALO.
Tea Leaf Green
It ain't easy being a gypsy, especially if one sings for their supper. San Francisco's Tea Leaf Green are newfangled Lost Boys, a traveling gang dedicated to seeking wisdom and experience in places both glorious and seedy. In many ways, this quintet is the essence of rock's adventurous, playfully outlaw spirit, all of which ultimately fuels songs that resonate with classic vibrations, open-ended possibilities and radio-ready charm. TLG are bruised romantics with heavy minds and a lighthearted way with experimentation, as likely to jam out a number as they are to nail a primo verse-verse-chorus pop gem.
Venue Information:
Cervantes' Masterpiece Ballroom
2637 Welton St.
Denver, CO, 80205