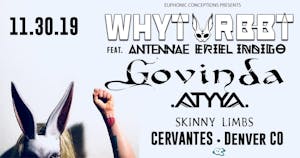 Euphonic Conceptions Presents
An-Ten-Nae and Govinda - WHYT RBBT ft Eriel Indigo w/ ATYYA, Skinny Limbs
Cervantes' Masterpiece Ballroom
An-Ten-Nae and Govinda - WHYT RBBT w/ ATYYA, Skinny Limbs
Tickets On Sale Now!
An-Ten-Nae
An-ten-nae is an instrumental figure on the west coast, from his role as music director, producing legendary events at the iconic 1015 Folsom in San Francisco, to his signature Acid Crunk Compilations which helped define an era and help lay the foundation to what is now the West coast Bass scene. One thing is always constant, and that is constant evolution. With numerous successful projects like Dimond Saints, The Invisible People, DnA, An-ten-nae always manages to reinvent himself and push his boundaries. Utilizing his own custom set up, An-ten-nae pushes the envelope with his live remixing abilities and wildly engaging performances.
Govinda
Govinda is the alter-ego of producer/composer Shane Madden. He began studying violin and composition at the age of eight and went on to study classical violin at the University of Texas where he fell in love with electronic music production. It was in Madden's pursuit of his gypsy roots that opened his ears to music from around the world. From experiences learning violin with mysterious masters on his journeys across the globe and his passion for modern design and technology, the current sound of Govinda was born.
Venue Information:
Cervantes' Masterpiece Ballroom
2637 Welton Street
Denver, CO, 80205