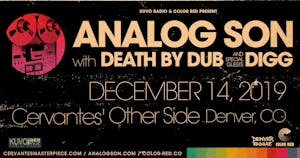 Analog Son w/ Death By Dub, Digg
Cervantes' Other Side
Analog Son w/ Death By Dub, Digg Tickets On Sale Now!
Analog Son
It's no secret that funk is good for the soul and Analog Son's latest studio release "Funky Mother" promises to make you shake what your mama gave you.
The band's fourth full-length album is their most robust effort yet with a 12-song collection of instant classics composed by co-founders and longtime musical collaborators, Jordan Linit and Josh Fairman. This album differs in a couple of key manners. For one, Linit and Fairman have cultivated a steadfast crew of top-call musicians to round out their roster as opposed to the "Steely Dan" format the group has used with a rotating studio cast on the prior three albums. In addition to Linit on guitar and Fairman on bass, these musicians include: Devon Parker & Ashley Niven (vocals), Eric Luba (keyboards), George Horn (drums), Will Trask (percussion), Mike Chiesa (tenor saxophone), and Gabe Mervine (trumpet).
Venue Information:
Cervantes' Other Side
2637 Welton St.,
Denver, CO, 80205