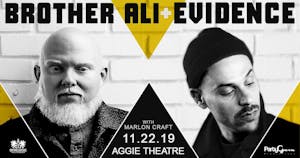 RESCHEDULED - Brother Ali + Evidence w/ Marlon Craft AT THE AGGIE THEATRE
Aggie Theatre
$22.00 - $79.00
Sales Ended
On Ticketforce
Brother Ali + Evidence Tour w/ Marlon Craft AT THE AGGIE THEATRE Tickets On Sale Now!
BROTHER ALI HAS BEEN RESCHEDULED FOR WEDNESDAY, FEBRUARY 12th, 2020
We regret to inform everyone that Brother Ali will not perform at The Aggie Theatre tonight, November 22nd, 2019. The show has been rescheduled for Wednesday, February 12th, 2020.
Brother Ali provided this statemnt to pass on to all his fans:
Peace and Love Beautiful People,
Sorry to say that I need to reschedule our show in Fort Collins tonight. This tour has been amazing but I've been battling a cold that's impacting my voice. As much as we've all been looking forward to rockin' with you, I need to give my body its right and get the rest I need.
The makeup date has been set for WEDNESDAY, FEBRUARY 12, 2020. Unfortunately Evidence and Marlon Craft will not be performing at the makeup show. Stay tuned for the full line up for February 12th.
All purchased tickets and VIP packages will be honored on the new date of February 12. Refunds are also available at the point of purchase if you're unable to attend the makeup show.
I've done about a thousand shows in my 17 years of touring and can count on one hand the times I've had to reschedule. It's honestly a heartbreaking decision. Thanks for being patient with me and for all of your incredible support.
Ali
Brother Ali + Evidence Tour w/ Marlon Craft AT THE AGGIE THEATRE
Venue Information:
Aggie Theatre
204 South College Avenue
Fort Collins, CO, 80524