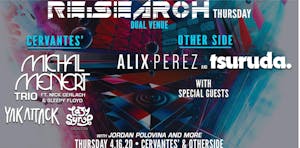 Cervantes' & Euphonic Conceptions Present
CANCELLED - RE:Search ft. Michal Menert Trio w/ Lazy Syrup Orchestra, Yak Attack, Jordan Polovina [BALLROOM] + Alix Perez & Tsuruda [OTHER SIDE]
Cervantes' and The Other Side - DUAL VENUE
$20.00 - $25.00
Canceled
On etix
***
RE: SEARCH FT. MICHAL MENERT CANCELLATION
We regret to inform that this show has been cancelled. Refunds are available at the point of purchase. If you purchased tickets online, your refund has already been initiated and you'll see funds hit your account within 7 - 14 business days.
** Special RE:Search Pricing for 4/16 is as follows **
TICKET PRICE - ADVANCE PRICING
$5 Early Bird
$10 Advance Tier 1
$15 Advance Tier 2
$20 Advance Tier 3
** All patrons under 21 will pay a $5 surcharge at the Door upon entry. **
TICKET PRICE - WALK UP PRICING
$20 Before 10pm / $25 After 10 PM
** All patrons under 21 will pay a $5 surcharge at the Door upon entry.
Michal Menert Trio
A youth steeped in a broad swath of both Eastern and Western musical traditions gives Menert a deep palate from which to draw; his passion for original analog sounds coupled with a vast knowledge of music history has given him a unique ability to pull from the global creative canon with ease. Despite having a deep and well-respected catalog, 'From the Sea' is the first release where Menert and his band came together to write as a group. Additionally, it's the first time Menert has shared lead vocal duties on a record; and the dynamic & elegant voice of Seattle's Jules Thoma lends additional dreamy warmth to their songs.
Alix Perez
Belgian born Alix Depauw is the face behind production moniker Alix Perez, and Shades (w/Eprom). Alix released his debut album "1984" to critical acclaim via the much revered imprint Shogun Audio in 2009. Since then he has released a 2nd studio album, multiple EP's, launched a label and has collaborated with the foremost names in dance and electronic music including; Noisia, Foreign Beggars, dBridge, EPROM and many more. Following the release of his 2nd album Chroma Chords in 2013, Alix was asked to do a BBC Radio 1 Essential Mix, which was nominated for essential mix of the year. After this album Alix went onto to release EP's on Exit Records before a collaborative EP with Ivy Lab on Critical Music.
Tsuruda
A leader in the Los Angeles bass scene, producer/DJ Tsuruda is a classically trained musician who commands a distinctive sound that blends elements of experimental hip-hop with avant-garde electronics. First debuting in 2014, Tsuruda has captivated wide-eyed audiences with his dynamic sound and hypnotizing live sets, which have taken him to marquee festivals like Shambhala Music Festival and EDC Las Vegas, in addition to his own solo tours throughout North America and beyond. His expansive discography—which comprises six full-length projects, two compilations, the breakout FUBAR EP, and numerous releases on tastemaker labels like Team Supreme, Darker Than Wax, 1985 Music (Alix Perez) and Division Recordings (Noisia)—is one of the most impressive bodies of work in independent electronic music. Tsuruda today stands at the upper echelon of bass music culture as an in-demand producer and internationally touring act.

Venue Information:
Cervantes' and The Other Side - DUAL VENUE
2637 Welton Street
Denver, CO, 80203