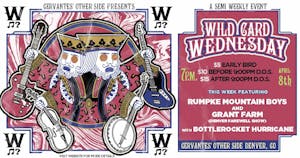 Grass for That Ass Presents
CANCELLED - Rumpke Mountain Boys & Grant Farm w/ Bottlerocket Hurricane
Cervantes' Other Side
$5.00 - $15.00
Canceled
On etix
***
RUMPKE MOUNTAIN BOYS & GRANT FARM CANCELLATION
We regret to inform that this show has been cancelled. Refunds are available at the point of purchase. If you purchased tickets online, your refund has already been initiated and you'll see funds hit your account within 4 - 6 business days.
TICKET PRICE - ADVANCE PRICING
$5 Early Bird
$10 Advance
***
TICKET PRICE - WALK UP PRICING
$10 Before 9:00pm / $15 After 9:00pm
Wildcard Wednesday
Wildcard Wednesday is a new semi-weekly series at Cervantes Other Side showcasing up and coming bands from around the country as well as Colorado's own local scene! Designed to spice up your week with great live music at an affordable price, these will be early shows with the first band on by 7:30pm and the headliner at 9:30pm so you can still get a good night's rest!
Rumpke Mountain Boys
The Rumpke Mountain Boys combine signature vocals, a unique command of string instruments (acoustic guitar, mandolin, upright bass and banjo) and dynamic special effects into a singular musical experience. An emotion filled musical stream of consciousness with no setlist, minimal structure, and intuitive improvisational flow. In this way, they summon the energy of the crowd as their guide in linking just the right music to precise moments in time.
Grant Farm
Grant Farm is a brotherhood with a song to sing and a story to tell. The double-vinyl release, Broke In Two (June 14, 2019), delves deep into the human relationship with the mystic, furthering the storylines and characters introduced on Kiss The Ground (2016). A testament of empathy for the working people in this demanding modern world, Kiss The Ground was "an appropriate soundtrack to an era that bred Bernie Sanders and widespread societal discontent." - Kiran Herbert (Relix Magazine). Broke In Two is an evolution of this concept, developing Archetypal characters such as The Innocent One and The Wanderer in the song "Arjuna The Believer", Nester the Condemned and The Monarch King in "Nester", and introducing The Rebel in "Life Of Riley" and the Caregiver in "Tumbleweed". Real life experiences interplay with these characters, especially in "River Styx" and "The Salmon Song", both of which reflect true experiences of loss and lessons passed on to the bereaved. The depth and breadth of the songs and stories on Broke In Two are punctuated by the band's virtuosic musicianship, clever arrangements, and top-notch group vocals.

Venue Information:
Cervantes' Other Side
2637 Welton St.,
Denver, CO, 80205