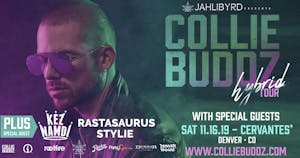 Collie Buddz - Hybrid Tour w/ Keznamdi, Rastasaurus, Stylie
Cervantes' Masterpiece Ballroom
$25.00 - $30.00
Tickets At The Door
Collie Buddz - Hybrdi Tour w/ Keznamdi, Rastasaurus, Stylie Tickets on sale now!
SET TIMES
8:00 DOORS
8:30 - 9:00         Stylie
9:15 - 9:45         Rastasaurus
10:00 - 10:45       Keznamdi
11:00 - Close       Collie Buddz
Collie Buddz
Light It Up, the new record from artist Collie Buddz, is momentous, gigantic and booming! It's immediately undeniable an awe-struck song complete with an unforgettable sing-along hook, the kind of beats that pound in the chest and a vocal performance that's as uncommon as it is infectious.
POSITIVE LEGACY PARTNERSHIP
Venue Information:
Cervantes' Masterpiece Ballroom
2637 Welton Street
Denver, CO, 80205