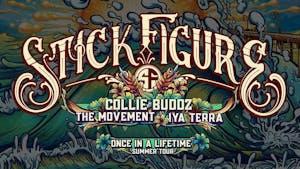 Collie Buddz
Iya Terra and Very Special Guests
Cervantes' Masterpiece Ballroom
Stick Figure & Collie Buddz Bundles On Sale Now! Purchase a Stick & Collie Bundle & attend both shows, Mission on 6/5 and Cervantes' on 6/6!
STICK FIGURE & COLLIE BUDDZ BUNDLE
Purchase the Stick Figure & Collie Buddz Bundle and receive admission to Stick Figure's Mission Ballroom show on Friday, June 5 and Collie Buddz' Cervantes' show on Saturday, June 6.
Purchasers will receive a confirmation email from Eventbrite that contains their Collie Buddz June 6 Cervantes' ticket.
Stick Figure June 5 Mission Ballroom tickets will be available through AXS' Flashseats. AXS will send an email to all purchasers with specifics on redeeming the Stick Figure Mission Ballroom ticket via Flashseats.
** Stick Figure WILL NOT perform at Cervantes' on Saturday, June 6.
Collie Buddz
Colin Patrick Harper hails from the tiny island of Bermuda. In the music industry, he is known as the reggae artist Collie Buddz. Buddz was born on August 21, 1984 in New Orleans, Louisiana. After graduating from high school, he attended Full Sail University in Winter Park, FL, where he decided to study studio engineering. Upon graduating from the top in his class at Full Sail in 2006, Buddz began looking for work in the recording industry as a performer or producer. One of his first major gigs was working with recording star Shaggy on the single "Mad Mad World" from Shaggy's new album at the time entitled Intoxication, which was released in 2007. That was the same year Collie released his self-titled debut album with Sony Music with tracks such as 'Come Around' and 'Blind To You'. The album was a success and well-received by critics. WWE (World Wrestling Enterprises) fans would immediately recognize Buddz's voice from the entrance theme ("SOS") for WWE superstar wrestler Kofi Kingston, which was included on the 2008 compilation WWE The Music, Vol. 8. Over the next year, he would continue making guest appearances on the works of many other artists.
Iya Terra
As the genre of Reggae music continues to evolve, Iya Terra has remained distinguished in both sound and sustenance throughout their 5-year journey. Combining messages of traditional Roots music in a modern day version, the Los Angeles-based band demonstrates an original and refreshing approach to creating conscious soundwaves that has them bound for infinite possibilities.

The 2015 release of the band's first LP, "Full Circle," began an upward trend of gaining momentum and fan acquisition across the map. In 2016, Iya Terra reached new heights as they began to tour heavily throughout the western U.S. Fast forward to 2017, which undoubtedly proved to be Iya Terra's breakout year. The release of their Billboard and iTunes chart-topping album "Sacred Sound" became a launching pad for a year full of massive growth. Since its release, the band's calendar had been filled with powerful intent as they spent the rest of the year touring in new markets such as the East coast and venturing internationally into Canada.

Venue Information:
Cervantes' Masterpiece Ballroom
2637 Welton Street
Denver, CO, 80205