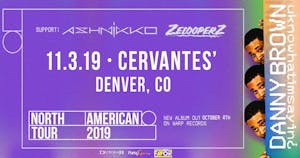 Danny Brown
Cervantes' Masterpiece Ballroom
$25.00 - $30.00
Tickets At The Door
Danny Brown w/ Special Guests Tickets On Sale Friday 9/6!
SET TIMES
7:00 DOORS
8:00 - 8:20 Zeelooperz
8:30 - 9:00 Ashnikko
9:00 - Close Danny Brown
When Danny Brown announced in 2017 that an unnamed hip-hop legend would executive-produce his next album, the internet detonated into frenzied speculation. It could be anyone: DJ Premier or RZA, Alchemist or DJ Muggs, Juicy J or Mannie Fresh. After all, this was The Hybrid, the most innovative rap stylist of the last decade, a one-man bridge between aggressive experimental European dance music and nose-bone shattering street rap. A gap-toothed lothario, higher than Hunter S. Thompson but a serious music scholar equally fluent in David Bowie and boom-bap, esoteric British grime and Detroit techno, Southern trap and stand-up comedy.
POSITIVE LEGACY PARTNERSHIP
Venue Information:
Cervantes' Masterpiece Ballroom
2637 Welton St.
Denver, CO, 80205