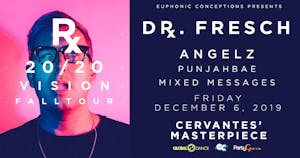 Euphonic Conceptions Presents
Dr. Fresch w/ Angelz, Punjahbae, Mixed Messages
Cervantes' Masterpiece Ballroom
$15.00 - $20.00
Tickets At The Door
Dr. Fresch w/ Angelz, Punjahbae, Mixed Messages
Tickets on sale now!
*** DR. FRESCH DATE CHANGE ***
Due to unforeseen circumstances, Dr. Fresch has been rescheduled for Friday, December 6. All tickets purchased for the original date of Saturday, October 5 will be honored on this new date.
Refunds are available at the point of purchase for anyone who isn't able to attend on the new date.
Dr. Fresch
In 2013 after winning Insomniac's Discovery Project Contest, Tony Fresch launched the Dr. Fresch brand. His debut self-titled EP and innovative hip-hop/rap remixes quickly exploded in the blogosphere. Shortly thereafter, Dr. Fresch was subsequently featured at #9 on Billboard Magazine's "Next Big Sound" Chart. His music weaves together elements of house, hip-hop/rap, and midtempo to create a unique, forward-thinking sound.
POSITIVE LEGACY PARTNERSHIP
Venue Information:
Cervantes' Masterpiece Ballroom
2637 Welton Street
Denver, CO, 80205