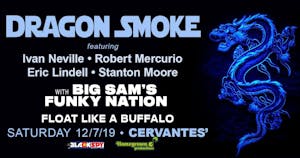 Dragon Smoke w/ Big Sam's Funky Nation, Float Like A Buffalo
Cervantes' Masterpiece Ballroom
$25.00 - $30.00
Tickets At The Door
Dragon Smoke w/ Big Sam's Funky Nation, Float Like A Buffalo
Tickets on sale now!
Dragon Smoke
Dragon Smoke is a band that formed as part of the New Orleans Jazz Fest tradition known as the "Superjam". The "Superjam" idea is to put together a band of people who don't normally play together and see what happens. With the dual vocals of Neville and Lindell, matched with the Galactic rhythm section, the band quickly realized, "We are on to something" and has played every Jazz Fest since it's inception in 2003. This inception took place at the famed Dragon's Den, hence the name of the band.
POSITIVE LEGACY PARTNERSHIP
Venue Information:
Cervantes' Masterpiece Ballroom
2637 Welton Street
Denver, CO, 80205