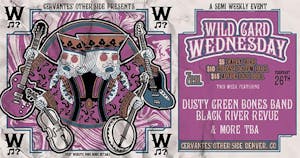 Wildcard Wednesdays & Grass for that Ass Present
Dusty Green Bones Band & Black River Revue w/ Special Guests
Cervantes' Other Side
***
TICKET PRICE - ADVANCE PRICING
$5 Early Bird
$10 Advance
***
TICKET PRICE - WALK UP PRICING
$10 Before 9:30pm / $15 After 9:30pm
Wildcard Wednesday
Wildcard Wednesday is a new semi-weekly series at Cervantes Other Side showcasing up and coming bands from around the country as well as Colorado's own local scene! Designed to spice up your week with great live music at an affordable price, these will be early shows with the first band on by 7:30pm and the headliner at 9:30pm so you can still get a good night's rest!
Dusty Green Bones Band
The Dusty Green Bones Band from San Francisco embody a playful approach to music which is all about having fun. They light up the dance floor with an electrifying blend of psychedelic jam-grass, bouncy Americana and uplifting rock.
Black River Revue
We are a group of friends from Superior, Wisconsin and Duluth, Minnesota who share a love for all different genres of music. Using a bluegrass instrumentation we have crafted our own sound made up of mostly original music which can be heard on our debut album "Garbage Pickin" (released in April of 2013). Our sophomore album "Spring Thaw" (released June 2014) adds another year of songwriting and live performance experience. With our sights held on the future we will continue to grow our catalog of original tunes for new albums and we will keep putting our twist on classic traditional songs and cover tunes that we love. We hope to see you out at shows and thank everyone for their continued support!

Venue Information:
Cervantes' Other Side
2637 Welton St.,
Denver, CO, 80205