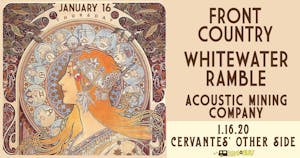 Front Country and WhiteWater Ramble w/ Acoustic Mining Co.
Cervantes' Other Side
$10.00 - $15.00
Sales Ended
***
Front Country
In today's crowded musical landscape, it's hard enough to develop a unique and recognizable sound that can set you apart. That done, you face an even greater challenge: What IS this music? Although Front Country has a foundation in traditional music, they are creating their own path and sound with grace, poise, confidence and extreme skill. They call it "roots pop" and its easy to agree with them. In fact you can't deny the infusion of these two sounds.
WhiteWater Ramble
Described as High-Octane Rocky Mountain DanceGrass, Whitewater Ramble (WWR) uses a simple recipe to craft its sound: start with bluegrass instrumentation, add drums, and finish with a boundary-less approach to grassing-up everything from disco house grooves to roots to Americana.

Venue Information:
Cervantes' Other Side
2637 Welton St.,
Denver, CO, 80205