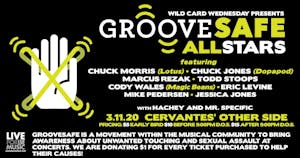 Wildcard Wednesday Presents
GrooveSafe AllStars ft. members of Lotus, Dopapod, Magic Beans and More!
Cervantes' Other Side
GrooveSafe AllStars ft. Chuck Morris (Lotus), Chuck Jones (Dopapod)) + More - Wildcard Wednesday Benefiting GrooveSafe
TICKET PRICE - ADVANCE PRICING
$5 Early Bird
$10 Advance
***
TICKET PRICE - WALK UP PRICING
$10 Before 9:00pm / $15 After 9:00pm
GrooveSafe Charitable Donation
GrooveSafe is a movement within the musical community to bring awareness about unwanted touching and sexual assault at concerts. We are donating $1 for every ticket purchased to help their causes!
GrooveSafe
The goal at GrooveSafe is to be present in the live music scene across all genres. We believe a change in behavior will start with awareness of the problem. GrooveSafe strives to keep the conversation going and rebuild a culture with an emphasis on consent. We want our logo to represent a silent message of a safe space- standing against the unwanted touching and sexual assault against any gender, by any gender, at any live music event. Self-expression is not an invitation.
GrooveSafe AllStars
A rotating super group of musicians playing shows to benefit the efforts of the Non-Profit GrooveSafe movement. The Denver edition of GrooveSafe AllStars will feature:
Chuck Jones (Dopapod)
Scott Hachey & Cody Wales (Magic Beans)
Marcus Rezak
Todd Stoop
Eric Levine
Mike Pedersen
Jessica Jones
Wildcard Wednesday
Wildcard Wednesday is a new semi-weekly series at Cervantes Other Side showcasing up and coming bands from around the country as well as Colorado's own local scene! Designed to spice up your week with great live music at an affordable price, these will be early shows with the first band on by 7:30pm and the headliner at 9:30pm so you can still get a good night's rest!

Venue Information:
Cervantes' Other Side
2637 Welton St.,
Denver, CO, 80205