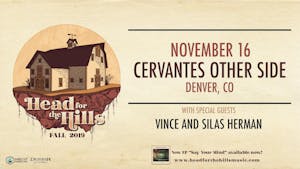 Head for the Hills w/ Vince and Silas Herman
Cervantes' Other Side
$17.00 - $20.00
Tickets At The Door
Head for the Hills w/ Vince and Silas Herman
Tickets on sale now!
Head for the Hills
Head for the Hills--Adam Kinghorn, Joe Lessard, Matt Loewen--come out swinging and invigorated with fresh sounds on their latest EP, Say Your Mind. Recorded at Swingfingers Studios in Fort Collins (Colorado), the band brought a larger band than ever before, including drummer Darren Garvey of Elephant Revival, Vocalist Kim Dawson, Dobroist Todd Livingston, a horn section and more. The material reflects both the turbulent social rhythms of our current era and more timeless moments of joy, growth, and change.
POSITIVE LEGACY PARTNERSHIP
Venue Information:
Cervantes' Other Side
2637 Welton St.,
Denver, CO, 80205