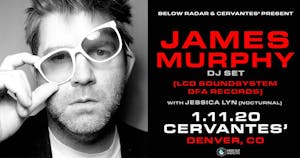 Below Radar and Cervantes' Present
James Murphy DJ set (LCD Soundsystem / DFA)
Cervantes' Masterpiece Ballroom
James Murphy DJ set (LCD Soundsystem / DFA) w/ Jessica Lyn (Nocturnal)
PRESALE TICKETS ARE SOLD OUT / RE RELEASE OF TICKETS NIGHT OF SHOW
We are sold out of our allotment of Presale tickets but never fear, there are 100 tickets that will be available for purchase night of show.
These 100 tickets will go on sale at 9:00 PM and will be available in person from our Box Office only. Purchasers will be required to enter the venue immediately and there will be a 2 ticket per person purchase limit.
* * * * *
Looking for tickets? Need to sell tickets? Use the Official Cervantes' Ticket Exchange powered by LYTE. This is the only way to 100% safely buy and sell tickets to this SOLD OUT event!
James Murphy
Though best known as the leader of LCD SOUNDSYSTEM, James Murphy has been active in various roles pre-dating, throughout and beyond the Grammy-nominated LCD's existence. Long a fixture of the downtown NYC music scene, Mr. Murphy co-founded the DFA label, which released the LCD Soundsystem catalogue and whose current roster includes The Rapture, Holy Ghost!, YACHT, the Juan Maclean, and more. As a DJ, Murphy has toured the globe headlining clubs and festivals the world over both on his own and, with fellow LCD veteran Patrick Mahoney, as 'SPECIALDISCOVERSION'. His DJ mixes for the likes of DFA, Colette and YSL (for whom he composes and performs show music) are renowned for their originality and verve.
Grab tickets while you can for this one.
Venue Information:
Cervantes' Masterpiece Ballroom
2637 Welton St.
Denver, CO, 80205