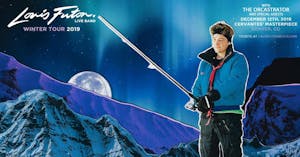 Louis Futon Live Band w/ The Orcastrator and Special Guests
Cervantes' Masterpiece Ballroom
Louis Futon Live Band w/ Special Guests
Tickets On Sale Friday 10/11!
Louis Futon
Originally a bedroom producer from Philadelphia, Louis Futon has made a name for himself as an established artist/producer as well as a talented live performer. Known for his weavings of hip-hop, R&B, and soul styles into his fresh sounding works, he now LA based artists has garnered over 120+ million streams across his singles and remixes, as well as another 10 million from unofficial flips of popular mainstream tracks.
Venue Information:
Cervantes' Masterpiece Ballroom
2637 Welton Street
Denver, CO, 80205