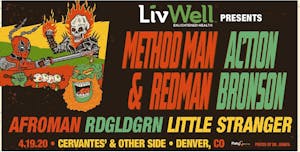 POSTPONED - Method Man & Redman x Action Bronson w/ Afroman, RDGLDGRN
Cervantes' Masterpiece Ballroom
$49.95 - $85.00
Postponed
On etix
LivWell Presents
METHOD MAN & REDMAN x ACTION BRONSON POSTPONED
Method Man & Redman x Action Bronson has been postponed. Tickets purchased for the original date will be honored on the new date.
The new date hasn't been confirmed but once it is, ticket purchasers will be notified immediately.
Method Man & Redman
In the dark, womb-like sanctuary of Jimi Hendrix's Electric Lady studios in downtown Manhattan-a place that has birthed historical musical moments-sits the artist known as Iron Lung, Tical, Wu Brother #1, Johnny Blaze, and of course...Method Man. With a trusty, half-lit blunt by his side, he is lounging in front of white grand piano, his hands sweeping the keyboards, trying to remember a tune he memorized years ago.
New Jersey rapper Redman made his initial impact with Whut? Thee Album in 1992. He blended reggae and funk influences with topical commentary and displayed a terse, though fluid rap style that was sometimes satirical, sometimes tough, and sometimes silly. Redman returned in 1994 with his second album, Dare Iz a Darkside, which was a harder album than his debut. Muddy Waters, Redman's third album, followed in 1996; he returned two years later with Doc's Da Name. New album "Red Gone Wild" Thee Album in stores now.
Action Bronson
A raunchy, cylinder-shaped ginger of Eastern European ancestry might not be the first dude you'd peg for rap stardom, but that's exactly the mantle Action Bronson is on the verge of possessing. Over the last few years, the 28-year old Queens native has become one of hip-hop's most charismatic and colorful new characters, thanks to his wicked sense of humor, a buffet of impressive releases and the rare knack for updating cherished East Coast aesthetics into indisputably modern music.

Venue Information:
Cervantes' Masterpiece Ballroom
2637 Welton St.
Denver, CO, 80205