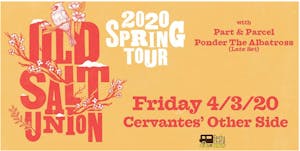 POSTPONED - Old Salt Union w/ Part & Parcel, Ponder The Albatross (Late Set)
Cervantes' Other Side
$18.00 - $21.00
Postponed
On etix
***
OLD SALT UNION POSTPONED
Old Salt Union has been postponed. Tickets purchased for the original date will be honored on the new date.
The new date hasn't been confirmed but once it is, ticket purchasers will be notified immediately.
Old Salt Union
Farrar, nephew of Son Volt's Jay Farrar, kicks off the album with 'God You Don't Need', a hook laden ode to a relationship gone bad set against a tapestry of strings and an eerily compelling banjo melody. Label mate Bobby Osborne guests on Tell Me So, a nod to the bluegrass side of the band's musical sensibilities featuring lead vocals and songwriting by mandolinist Justin Wallace. Violinist John Brighton delivers the gypsy-tinged instrumental Johann's Breakdown, which pulls from jazz and classical progressions, and Wallace delivers the haunting title track, Where The Dogs Don't Bite. The dark, but heartfelt song features triple-layered guitar harmonies, stacked vocals and a group sing-along that recalls last call at a corner pub in the rust belt, a fitting closing to this musically diverse and compelling release.
Can'd Aid Foundation
$1 from every ticket purchased will be donated to benefit the Can'd Aid Foundation!

Venue Information:
Cervantes' Other Side
2637 Welton St.
Denver, CO, 80205