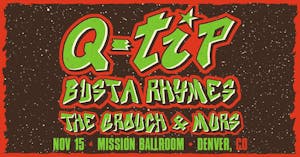 Q-Tip at Mission Ballroom
Tickets On Sale Now!
Q-Tip
Q-Tip, is an American hip-hop emcee, singer, actor, and hip-hop producer, who went to Murry Bergtraum High School in Manhattan, New York and was the leader of the critically acclaimed group A Tribe Called Quest. He converted to Islam in the mid-1990s, and changed his name to Kamaal Ibn John Fareed. The Q in Q-Tip's stage name stands for Queens, the borough of New York City from which he hails. He also refers to himself as the Abstract' (originally the Abstract Poetic) and Kamaal the Abstract.
Venue Information:
Mission Ballroom
4242 Wynkoop St
Denver, CO