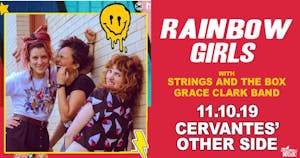 Rainbow Girls w/ Strings and the Box, Grace Clark Band
Tickets On Sale Now!
Rainbow Girls are an eclectic trio comprised of three unique musical talents -Vanessa May, Erin Chapin, and Caitlin Gowdey- who seamlessly combine heart-wrenching harmonies, emotive guitar work, and poignant lyrical content into an unusually beautiful sonic tapestry. Hailing from the golden countryside just north of California's Bay Area, their music delves deeply into themes of the human experience: hopeful love, honest self-reflection, and pursuits of social justice. Their latest album, "American Dream," crystallizes these ideas in acoustic amber, encapsulating a beautiful new direction for their evolving sound.
Venue Information:
Cervantes' Other Side
2637 Welton St.,
Denver, CO, 80205