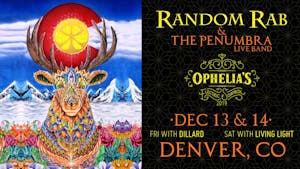 Random Rab & The Penumbra Live Band w/ Living Light AT OPHELIA'S
Ophelia's Electric Soapbox - Denver
$20.00 - $35.00
Tickets At The Door
On Eventbrite
Random Rab & The Penumbra Live Band w/ Living Light AT OPHELIA'S
Tickets On Sale Now!
Rab was born. He began to experiment with sound. The back of his head fell on the ground. Sound was released from the THUMP. It was deafening and created around him the first note of Random Rab's music.
Venue Information:
Ophelia's Electric Soapbox - Denver
1215 20th Street
Denver, CO, 80202