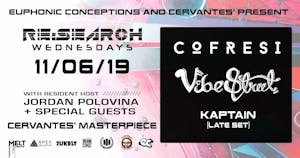 Cervantes', Euphonic Conceptions & MHSM Present
Cofresi
Vibe Street
Cervantes' Masterpiece Ballroom
$5.00 - $20.00
Tickets At The Door
Cervantes', Euphonic Conceptions + MHSM Present RE:Search ft. Cofresi & Vibe Street w/ Kaptain (Late Set), Jordan Polovina
COFRESI
COFRESI pushes the boundaries of modern performance and production with a hybrid style and a refreshingly versatile live dj/digital acoustic drum-setup. In the studio, he creates a unique sound that is provocative, melodic & rhythmic at its core. Live, his sets are full of energy as he showcases a unique ability to incorporate multidimensional digital and acoustic percussion into modern electronic music.
VIBE STREET
Taking influences from game-changing producers in the ever exploding electro-hip hop-glitch-funk movement, and combining it with elements of bluegrass, folk, blues and jam, Vibe Street brings a flavor that is unrivaled in the world of music today.
The project was launched in 2013 by Connecticut native turned Colorado resident Ben Davis, who coined the genre "Grass-Hop/Future-Folk" to describe his unique sound. Before long Vibe Street was featured at major festivals including Electric Forest, Euphoria, Resonance and more and appeared on bills alongside the likes of Pretty Lights, Gramatik, Lettuce, The Motet and Break Science.
The live Vibe Street experience is a celebration of expression on all levels, welcoming in performers, artists and inventive minds of all sorts who share in a community-driven creative vision. Combining forward thinking with a heart-centered message, Vibe Street is providing music fans across all spectrums with the refreshing dose of originality that they so desperately crave.
**

TICKET PRICE - ADVANCE PRICING

$5 Early Bird

$10 Advance

** All patrons under 21 will pay a $5 surcharge at the Door upon entry. **

TICKET PRICE - WALK UP PRICING

$10 Before 10pm / $20 After 10 PM

** All patrons under 21 will pay a $5 surcharge at the Door upon entry. **

**

Venue Information:
Cervantes' Masterpiece Ballroom
2637 Welton St.
Denver, CO, 80205