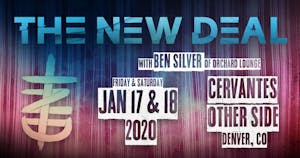 Euphonic Conceptions Presents
theNEWDEAL w/ Ben Silver of Orchard Lounge - Night 1
Cervantes' Other Side
theNEWDEAL w/ Ben Silver of Orchard Lounge - Night 1
Tickets on sale now!
theNEWDEAL
With over 1400 legendary late nights, sold-out clubs and triumphant festivals under their belts, The New Deal returns with a passion in 2019 with 'TND3' –the third incarnation of the renowned live electronica trio: Jamie Shields (keyboards), Dan Kurtz (bass), and new drummer Davide Di Renzo.
The band's evolution through three drummers has now brought The New Deal closer to its original direction. "With Davide, it's a bit like 'coming back home', as he was the drummer that inspired our original direction back in 1998 when the three of us played an impromptu gig together in Guelph, Ontario. Each of the band's drummers has brought something unique to The New Deal, and with Davide we're reaching back to move forward with the organic-infused improvisation that has long-inspired a big part of The New Deal sound," explains keyboardist Jamie Shields.
2-DAY PASSES
Attending both theNEWDEAL shows- Friday, 1/17 and Saturday, 1/18? Purchase your 2-Day Pass HERE.
On Friday, 1/17, theNEWDEAL is performing w/ Ben Silver of Orchard Lounge at The Other Side
On Saturday, 1/18, theNEWDEAL is performing w/ Ben Silver of Orchard Lounge at The Other Side and will be part of a DUAL VENUE showcase which includes Maddy O'Neal and Nobide at Cervantes'
Venue Information:
Cervantes' Other Side
2637 Welton St.,
Denver, CO, 80205